Visitor information
Visiting Restrictions:

All designated caregivers and visitors will be required to wear a surgical mask provided by Crest Hospital on arrival and for the duration of your visit.
Designated caregivers will be required to have a daily Rapid Antigen Test if approval given to stay overnight with the patient eg parent of a child.
Telephone enquiries will be put through to the patient's room. When relatives and friends telephone the hospital they cannot be given information about a patient's condition/progress without their permission.

Visiting hours
Our visiting hours are: 10am to 8pm.
How to find Crest Hospital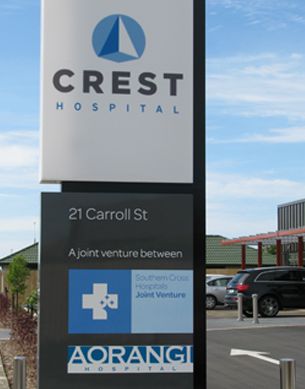 Reception Hours
Monday to Friday 6.30 am – 6.00 pm
Address
Located behind the
Crest Specialist Centre.
Complimentary visitor parking on site.
21 Carroll Street
Palmerston North 4410
New Zealand
Contact
Phone: (06) 953 2480