Going Home
Discharge information
Your surgeon must give clearance for you to be discharged. On the day of discharge, you will be required to vacate your room by 10.00 am. If there is some reason why you are unable to leave by this time, please speak to your nurse. You may be asked to wait in the patient lounge.

Before you leave make sure you:
Have arranged for someone to drive you home
Have arranged for someone to stay with you at home for at least the first 24 hours
Have received your Hospital discharge summary, including instructions from your surgeon and the contact details of both your surgeon and GP
Understand your recovery plan and the steps you need to take to reduce the risk of blood clots
Know how to arrange any follow-up rehabilitation support (e.g. physiotherapy)
Have received any prescriptions required for your recovery
Understand any required follow up arrangements with your surgeon
Have arranged for any prescribed rehabilitation aids (e.g. crutches).
If you have any questions or concerns please don't hesitate to ask the Nursing Staff, your Surgeon or your Anaesthetist.
We value your feedback
Crest Hospital is committed to providing a quality service to our patients and welcomes your suggestions or comments about our service. Please let us know how you enjoyed your stay by completing our Patient Feedback Form, or you will find the Comments Form in your welcome pack.
Crest Hospital appreciates patients taking the time to complete the comments form, which assists us to provide Quality Healthcare in a Relaxed and Friendly Environment.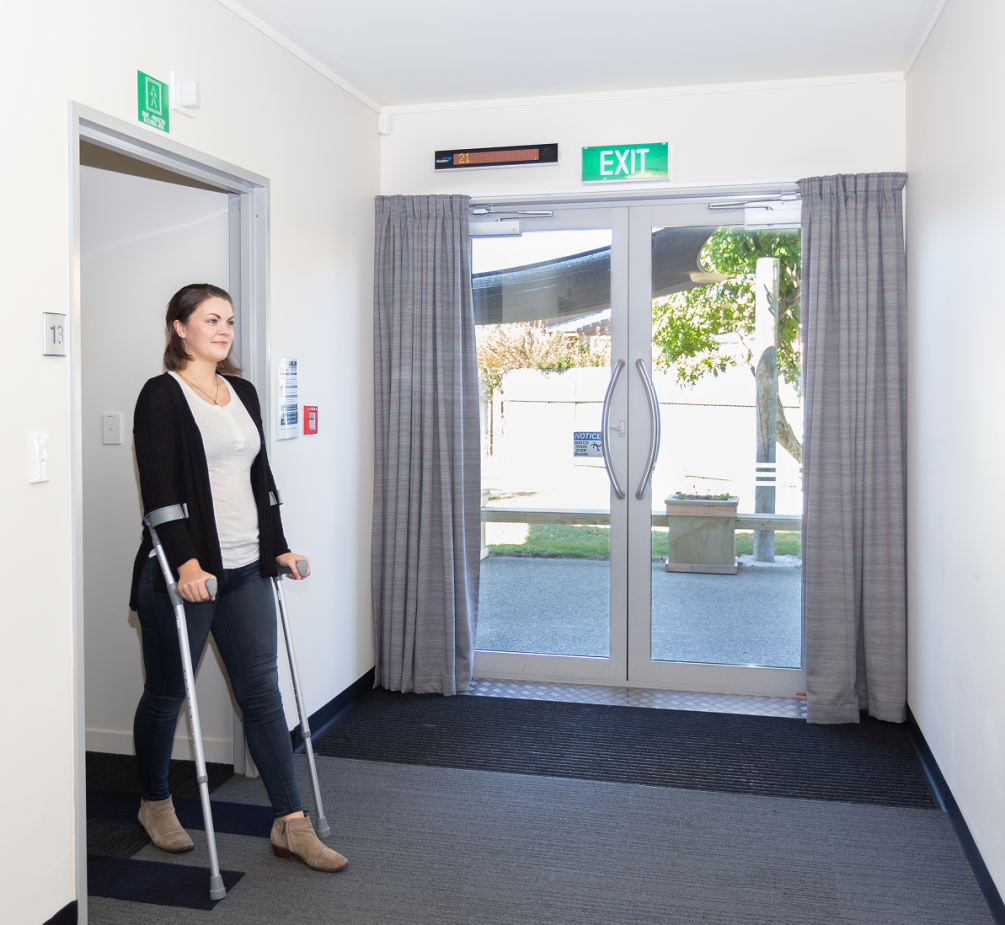 Mobility aids
Crest Hospital can assist you with the hiring/purchasing of prescribed aids.
In the case of ACC patients the hireage fee is covered for the first six weeks, thereafter the hireage company will bill you directly for any further charges.
For insured patients, please check with your insurer prior to your hospital admission to see if your policy covers the hireage of equipment aids, as you may be able to claim this cost back from your insurer.
After you leave the hospital
Call or visit your surgeon, GP or accident/emergency service immediately if you become unwell after you leave the hospital and/or develop any of the following signs or symptoms:
Sudden shortness of breath and/or pain in your chest
Coughing up blood-streaked mucus
Raised temperature (fever) or chills
Excessive bleeding or wound ooze
Increased pain, redness or swelling in or around the wound
Nausea or vomiting
Pain in your pelvis
Redness, pain, swelling or tenderness in your leg
Any other signs, symptoms or issues that are of concern to you or your family/whānau.
If in doubt, or in the event of an emergency, call an ambulance immediately (111).
Payment information
There are several ways to pay your Crest Hospital bill online:
Pay by credit card or debit card
Complete our online form to make a secure payment through DPS Payment Express.
Pay via bank transfer
Complete our online form using internet banking with Account2Account by Payment Express.