Specialist Centre
Welcome to the Crest Specialist Centre
Our purpose built Specialist Centre has three dedicated Ophthalmology Rooms, three dedicated Cardiology Rooms and six multi use Specialist Consulting Rooms.
Complementing our consulting rooms, we have a fully equipped procedure room which is used for smaller surgical procedures and clinical investigations for Ophthalmology, Urology and General Surgery.
Most of our Specialists are not based full-time at the Specialist Centre. They divide their time between private practice and working in the public domain at MidCentral Health.
The majority of our Specialists request a referral from the patient's medical practitioner, outlining their medical condition and medical history. If you wish to self-refer to a Specialist please contact us, and in consultation with the Specialist we will advise you of your options.
The urgency of your medical condition is prioritised by the Specialist. We do not provide emergency services.
Our dedicated Team of Nurses and Administrators welcome your enquiry via email, please use the email link below.

How to find the Specialist Centre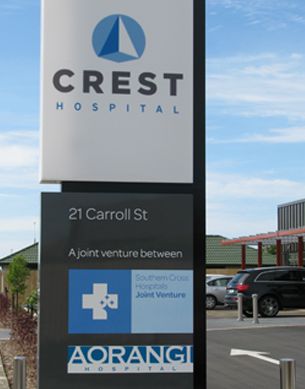 Reception Hours
Monday to Friday 8.00 am – 5.00 pm (excluding statutory holidays)

Address
Located at the front of the Crest Hospital
21 Carroll Street
Palmerston North 4410
New Zealand
Contact
Phone: (06) 953 2498
Email: specialistcentre