During your stay in hospital
On admission to hospital
On admission to the hospital please report to the hospital main reception to begin admission and confirm payment arrangements. You will then be escorted to an area such as the ward, day-stay or an admission room, where a nurse will complete your admission and assist you to prepare for your procedure. You may discuss any questions, concerns and personal needs during this time. In consultation with your surgeon and anaesthetist, our nurses will plan your care with you.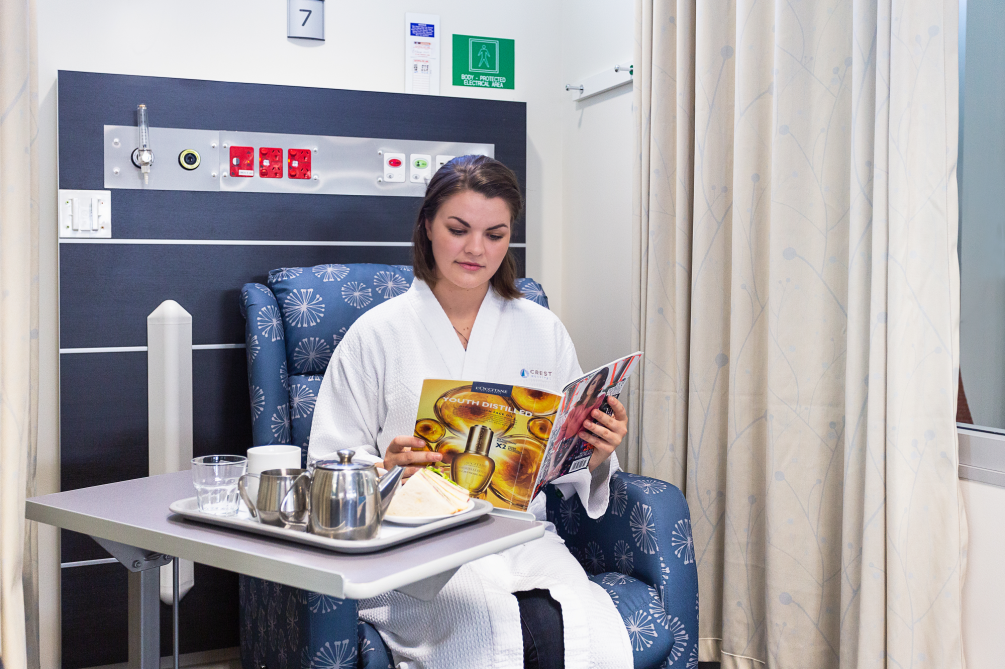 Medical care
Your medical care, while you are in the hospital, is the responsibility of your surgeon, while your nursing care will be provided by our team of nurses. Crest Hospital does not employ doctors at its hospital, but your surgeon will visit regularly during your stay. Should the need arise, your surgeon will be available by telephone and to attend the hospital to provide further prompt specialist assessment or additional medical treatment. In the case of a medical emergency, we will call your surgeon and you may be transferred to an emergency, coronary or intensive care service.
Medications
Please ensure that you bring all your normal medications to hospital with you. This is so we may continue those medications, prescribed by your primary health provider, whilst in hospital. This includes any natural or homeopathic remedies you may be using.
Any new medications, which are added to your normal medication regime will be discussed with your primary health care provider at your discharge.
Section 29 Medications
Some commonly used medications may not have been submitted for Medsafe NZ's approval; these are called Section 29 Medications. Where your health practitioner prescribes a Section 29 Medication for your care, we are required to provide Medsafe with your name and your prescriber's name.