About Us
History
Before the formation of the Southern Cross Aorangi Hospital Partnership in 2012 Palmerston North's private medical needs were primarily serviced by two separate hospitals; Aorangi Hospital located on Grey Street and Southern Cross Palmerston North Hospital located on Carroll Street.
Aorangi Hospital was originally Aorangi Private Hospital and was opened by Eve Laing in the 1930s. The name "Aorangi" was given to the hospital by the Aorangi Iwi and means "A Cloud in the Sky". In 1950 the Sisters of Mercy purchased the property and began running the hospital as Mater Misericordiae Hospital. In 1969 the hospital was renamed Mercy Hospital and a large number of improvements were made to the facilities over the next 30 years. In 2000 the hospital was purchased by a group of medical specialists and renamed Aorangi Hospital.
In 1897 Northcote Private Surgical and Geriatric Hospital opened in Palmerston North and was subsequently purchased by Southern Cross Hospitals Ltd in 1983. Four years later in 1987, a purpose-built surgical hospital was built in Carroll Street with the aim of delivering a high quality, affordable service for the benefit of the local community. The Southern Cross Aorangi Hospital Partnership was formed on the 1st of August 2012 in a joint effort to provide the highest quality private hospital service to Palmerston North and the surrounding regions.
In April of 2013, the partnership assumed a new collective identity and became Crest Hospital. In October 2015, after a period of extensive renovations and addition of new facilities, Crest Hospital consolidated its operations at 21 Carroll Street.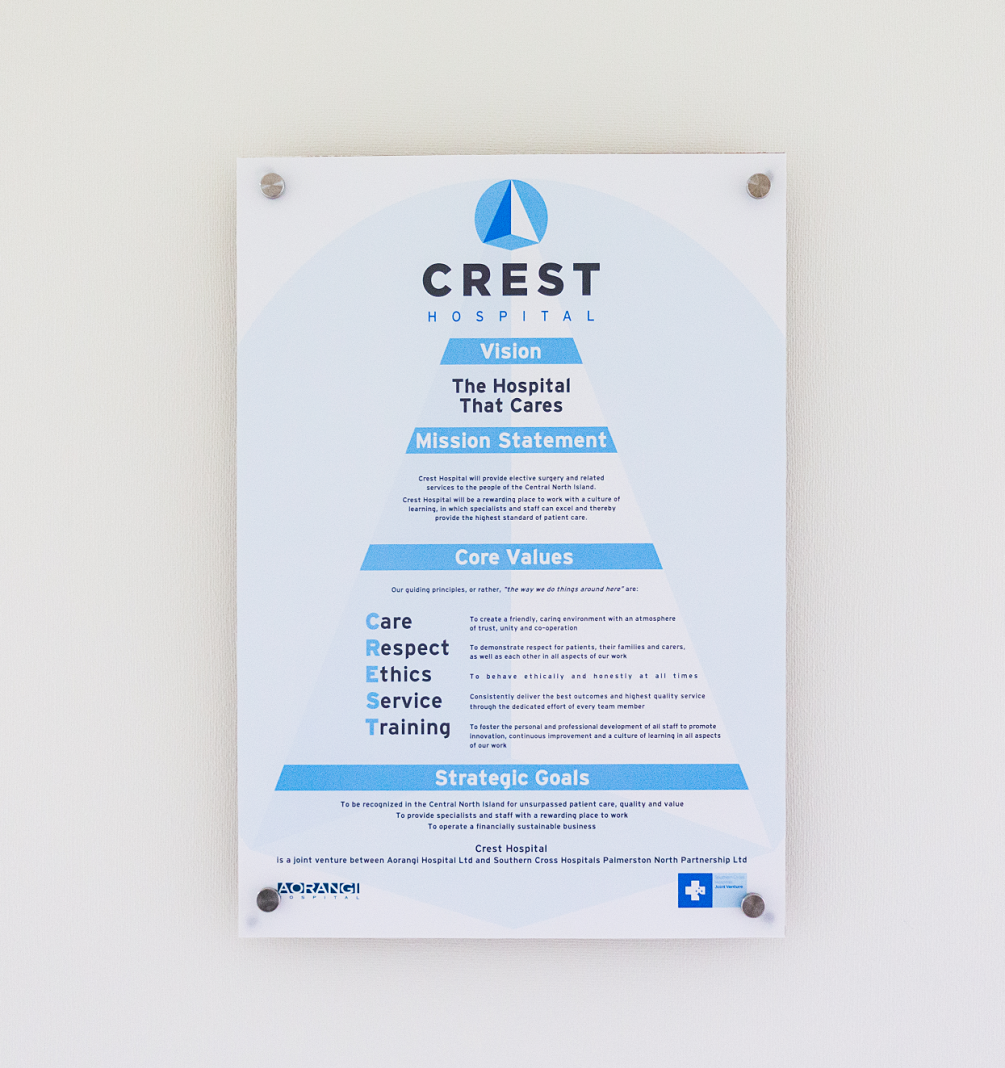 Vision and Mission
The Hospital
that Cares
Crest Hospital will provide elective surgery and related services to the people of the Central North Island. Crest Hospital will be a rewarding place to work with a culture of learning, in which specialists and staff can excel and thereby provide the highest standard of patient care.
Our Guiding Principles are:
Care

To create a friendly, caring environment with an atmosphere of trust, unity and co-operation.

Respect

To demonstrate respect for patients, their families and carers, as well as each other in all aspects of our work.

Ethics

To behave ethically and honestly at all times.

Service

To deliver the best outcomes and highest quality service through the dedicated effort of every team member.

Training

To foster the personal and professional development of all staff; to promote innovation, continuous improvement and a culture of learning in all aspects of our work.