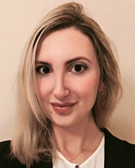 Ms Alexandra Gordon
BHB MBChB FRACS (Gen)
General Surgeon
Alexandra Gordon is a New Zealand trained specialist General Surgeon. After receiving her medical degree from the University of Auckland in 2006, she began training in General Surgery. Alexandra obtained her FRACS in 2013. She gained further specialist skills and experience by working abroad in Australia (Royal North Shore Hospital, Sydney) and the United Kingdom (Royal Infirmary of Edinburgh), completing the ANZGOSA (Australia and New Zealand Gastric & Oesophageal Surgery Association) post-fellowship training program in 2016.
Alexandra performs a wide range of general surgical procedures. She has a special interest in laparoscopic gall bladder surgery, laparoscopic and open hernia surgery, complex hernia surgery, laparoscopic anti-reflux surgery and endoscopy (colonoscopy and gastroscopy).
Alexandra is a full member of ANZGOSA, as well as being an honorary Board Member. She is a Consultant Upper Gastrointestinal and General Surgeon at Palmerston North Hospital, where she also is the General Surgery Training Supervisor.
Alexandra is a Southern Cross Affiliated Provider.