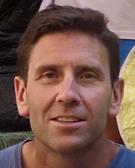 Mr Quinten King
MB BCh FRCS (Glas) FCS (SA) Urol
Urological Surgeon
I am a Urological Surgeon with special interests in Urological Oncology and Reconstructive Urology. I graduated from the University of the Witwatersrand 1985; completed internships, compulsory military service and basic surgical training before commencing specialist Urological training in Johannesburg in 1994. I completed a Fellowship in Oxford, England, then practiced in South Africa and at James Cook and North Tees University Hospitals in the UK.
My family and I came to Palmerston North in 2004. Here I have continued to practice General Urology, with an extensive repertoire including transurethral prostate surgery, endourological stone management, neurourology and urodynamic investigation. I enjoy reconstructive urology such as urethroplasty, urinary diversion, bladder augmentation, continent urostomy, vesicovaginal fistula repair etc., and cancer surgery including radical cystectomy, radical prostatectomy, open partial nephrectomy and laparoscopic nephrectomy.
I served on the Training, Accreditation, and Education Committee of the Urological Society of Australia and New Zealand (NZ Section) from 2007 to 2015. I am involved in clinical audit, basic science and clinical research and teaching, and helped establish New Zealand's first Uro-Oncology Multidisciplinary Team.