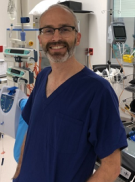 Mr Christopher Daynes
Mr Christopher Daynes is a New Zealand trained General Surgeon with a special interest in Breast and Colorectal surgery. Chris has been providing surgical care to the people of the Manawatu for over 12 years rising to Medical Head in 2019 before leaving this role to become the Clinical Lead for the Digitisation of the Clinical Record Project.
Chris is passionate about providing excellence in personalised Surgical care together with a strong interest in how technology can help empower this process.
He is available for general consultation and the following surgical procedures:
Laparoscopic Gall Bladder Removal
Endoscopic Inguinal Hernia Repair
Colonoscopy and Endoscopy
Breast Cancer Surgery
Skin Cancer Surgery including Melanoma
Open and Laparoscopic Colon Surgery