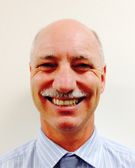 Mr Christopher Williams
FRACS (Orth)
Orthopaedic Surgeon
Specialising in all areas of Orthopaedic Surgery with a particular interest in joint replacement surgery, soft tissue injuries to the knee and shoulder surgery.
I have practised continuously as an Orthopaedic Surgeon in Palmerston North since 1996, working both at my private practice in the Aorangi Orthopaedic Centre and at Palmerston North Hospital.
I graduated from the University of Otago in 1984 and I am a member of the New Zealand Orthopaedic Association.